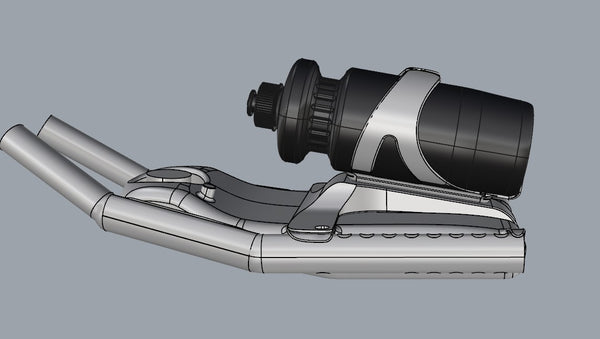 Tactical Aero Hydration Set
Specifically made for Premier Tactical
Save 6 watts (compared to no hydration) on flat extensions.
Save 2 watts (compared to no hydration) on tilted extensions.
Tested with lower unit 29 oz combined with upper cage, bottle 20 oz and pouch.
The main unit shields the underside of the extensions and guides the air smoothly while bracing the front end. The athletes arms shield most of the top cage and bottle from the wind. When used the storage pouch is fixed to the back of the top cage in-line reducing aero profile.
Main Unit holds 29 oz and fits between the extension tubes. It can be used separately for short course hydration - with or without computer mounted on T brace.
Main Unit (29oz) plus regular bottle cage and bottle (20 oz). It can be used for 2 separate hydration units or use the main unit for concentrate and the top unit for hydration.
Set Includes:
Zip Ties
Main Unit
T brace for computer mount option
T brace with Regular Bottle Cage option
2 Bottles
2 each main unit fill stopper
Straw with gasket